LOCKDOWN HIGHLIGHTS THE NATION'S LOVE OF CANS 
Latest Kantar figures reveal impact of lockdown on supermarket canned food sales 
When lockdown first appeared on the horizon back in March this year, the MPMA and Canned Food UK phones started to ring, and ring, and ring. 
We were inundated with calls from journalists. From Radio 4 and The Times, to Bloomberg and the tabloids, all wanting to know why cans were flying off the supermarket shelves? Why were people hoarding cans? What was it about cans that makes people turn to them in times of crisis? What were the most popular canned food products? And where could they go for recipes using canned food? 
Well the answers were simple enough.  
Cans have a long shelf life. They retain nutrients. There is a vast choice of foods available in cans and, they have a nostalgic heritage of seeing households through difficult times. And by far the most popular are canned vegetables. There's a vast choice of recipes on cannedfood.co.uk and, in case you were wondering, cans are 100 per cent recyclable too. 
But what about the numbers?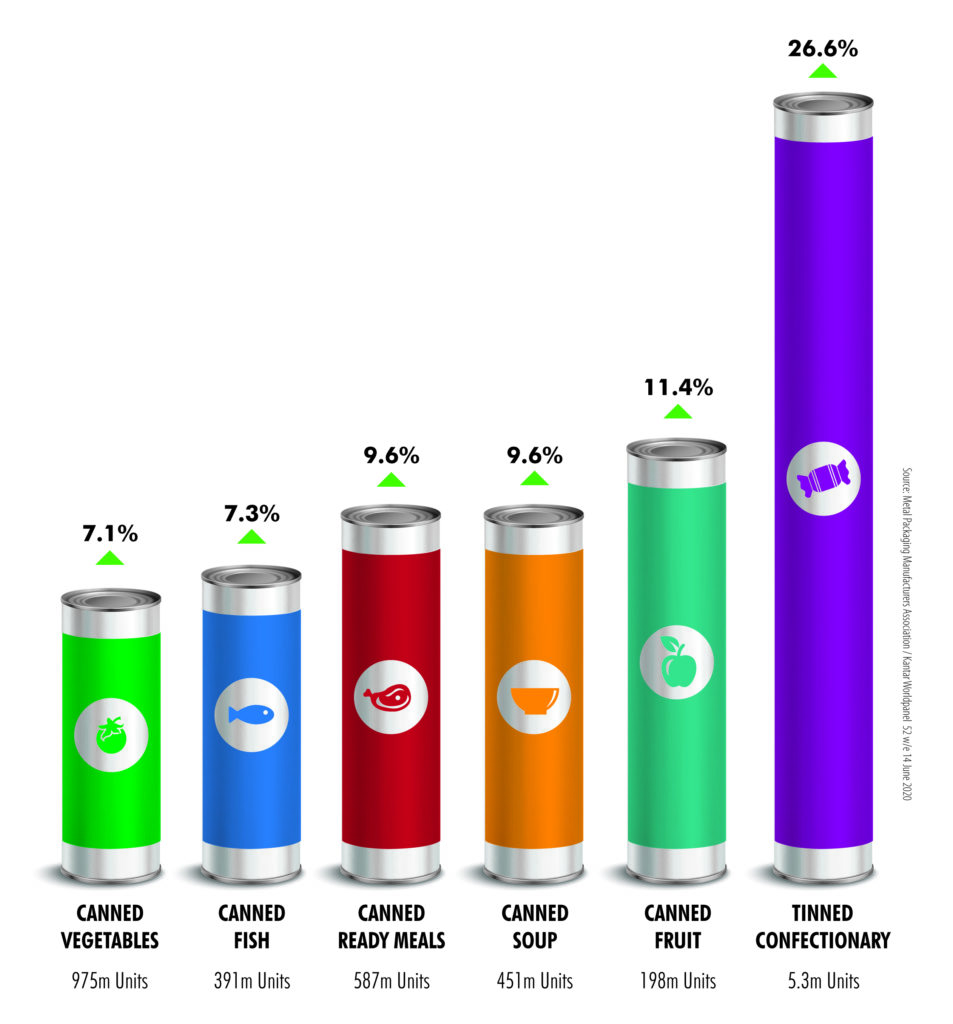 It was with bated breath that we awaited the arrival of the latest Kantar figures for canned food sales to the year ending 14 June 2020 – just as lockdown was beginning to lift. And we were not disappointed. Overall canned food sales volume in units increased by around six per cent year on year. 
The biggest seller overall was canned vegetables at 975m units, an increase of 7.1 per cent.  
Canned fruit too increased considerably with an 11.4 per cent rise to 198m units. 
Another bestseller was canned ready meals (which includes baked beans) which increased by 9.6 per cent to 587m units; while ambient soups rose to 451m units, an increase of 9.6 per cent. Canned fish increased by 7.3 per cent to 391m units. 
Shelf life is, I would suggest, the most relevant factor here. With access to supermarkets constrained and visits limited over lockdown, cans certainly came to the rescue as far as extended storage of fruit and veg was concerned. 
The greatest rise of 26.6 per cent year on year was surprisingly, and perhaps slightly worrying as an indicator of our eating priorities as a nation, tinned confectionery. 
This category includes Quality Street, Roses and Heroes and, while perhaps a Christmas rather than lockdown treat, the increase certainly highlights the extent to which households still love these perennial favourites.  
So, in hugely challenging times for families and businesses, canned food has more than held its own. In fact, the only decline in the food category overall was tinned biscuits. Perhaps the closure of offices and our biscuits consumption in meetings has something to do with this. Watch this space!