In a recent discussion with Dick Searle, chief executive of The Packaging Federation, regarding the positive role packaging plays in society, he reminded me about some of the key findings of the WRAP report "UK progress against Courtauld 2025 targets and Sustainable Development Goal 12.3" published in January 2020*.
Although the report is primarily concerned with the nation's progress in reducing UK food waste and greenhouse gas emissions associated with food consumed, in doing so it highlights some very interesting facts, not least the relative contribution of the various elements of the food supply chain to the UK's greenhouse gas (GHG) emissions.
That percentage contribution per stage in the value chain is reproduced here as a pie chart, and shows that by far the biggest contribution to GHG is from food production and food manufacture itself, 68 per cent in fact, and that the total GHG contribution from packaging is by comparison a mere three per cent. 
Putting this into context, packaging has over 22.5 times less impact on the UK's food supply chain GHG emission than the food it protects.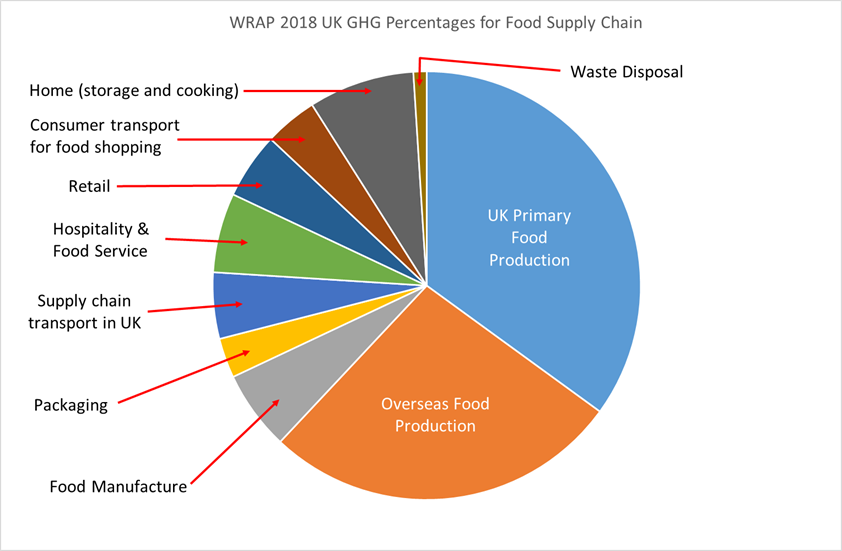 This to me calls into question the preoccupation some have with the carbon footprint of packaging.
Packaging extends shelf life which means that loss of the 68% GHG emissions incurred during associated production and manufacture is reduced.  It also limits even more GHGs being generated by food spoiling and producing methane.
Packaging is often used as a distraction from the wider issues around excessive food waste. The irony of course is that packaging is very much part of the solution to food waste, especially packaging such as metal that imparts such a long shelf life to the product it protects.
*The report outlines progress in reducing UK food waste and greenhouse gas emissions associated with food consumed in the UK – in the context of the Courtauld Commitment 2025 targets (2015 to 2018) and the UN Sustainable Development Goal 12.3 (2007 to 2018)